Erasmus+'s contact persons at the Faculty of Engineering are associate professor Aleksandar Aleksic (This email address is being protected from spambots. You need JavaScript enabled to view it.) and assistant professor Nenad Kostic (This email address is being protected from spambots. You need JavaScript enabled to view it.).
Announcements of activities and offers of student mobility can be found on the University website: https://www.kg.ac.rs/erasmus.php
Implemented activities within the ERASMUS + program during the winter semester of the school year 2021/2022
The Faculty of Engineering of the University of Kragujevac actively participates in the implementation of the Erasmus + program through many activities, and predominantly through the teaching process.
During the winter semester of the current school year, within the mentioned program, 6 students from Spain attended classes at our faculty. The students who participated in the exchange are full-time students of the Universities of Madrid and Jaen.
Also, the process of selection of students and teachers from our faculty who applied to go on an exchange within the program was performed.
In addition to the implementation of teaching activities performed by teachers from our institution, Prof. Dr. Adis Muminović from the University of Sarajevo has also delivered online lectures provided by the mobility program.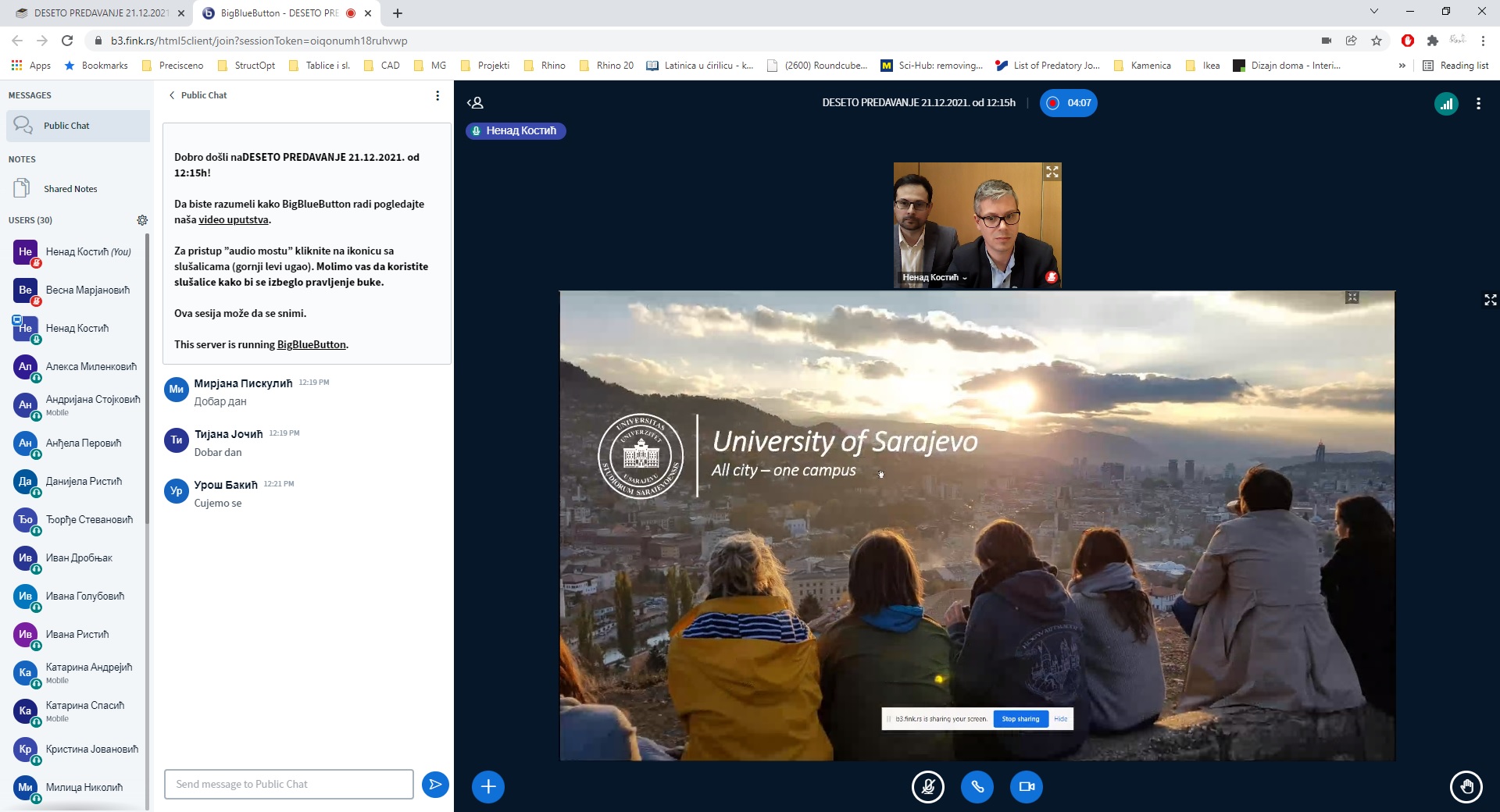 Bachelor academic studies
Thermotechnics - summer semester
Energy and Environment - winter semester
Energy and Environmental Management - summer semester
Technology and Plants for the Water and Air Treatment - summer semester
Geographic Information Systems - winter semester
Heating and Air Conditioning - winter semester
Solid Waste Management - summer semester
Fundamentals of Entrepreneurship Management and Economy - summer semester
Production Systems - summer semester
Internet (WEB) Application Development - summer semeste
Renewable Energy Sources - winter semester
Soil Mechanics - winter semester
Electrical and Electronics Engineering – summer semester
Concrete and Concrete Structures – summer semester
Introduction to Computer Aided Design (3D Product Modeling) - summer semester
Master academic studies
Design of Information Systems and Databases - winter semester
Integrated Management Systems (IMS) - winter semester
Calculation Methods in Product Development – winter semester
Tribology of Machine Systems – summer semester
Computer Aided Design – winter semester
Theory of Elasticity - winter semester
Industrial Design - summer semester